There is nothing quite like an inspiring artwork to whet the appetite and enhance the dining experience, but why is this exactly? Pairing food and art isn't a novel concept, but it's such an effective combination because they both appeal to the senses. While dining, clients have that rare gift of time, this means time for digesting their meal and also their surroundings, making restaurant decor paramount to the eating experience. With the unwelcome arrival of COVID-19, many establishments are suffering and are frantically finding new ways to attract clientele whilst maintaining the safety of their staff. The hospitality industry has been so badly hit by the virus that governments in countries like the UK have launched schemes and discounts for consumers to eat out. Clients not only want to feel safe in a food establishment, but they want to be reminded why they go out to eat: not only does it save them the washing up, but it's an experience that can't be recreated at home. 
Experiences can be designed through interior decor, and adorning the walls of a restaurant or cafe with art is an easy and affordable way of captivating clients
and setting establishments apart from the (very large)
hospitality
crowd.
It provides a meaningful partnership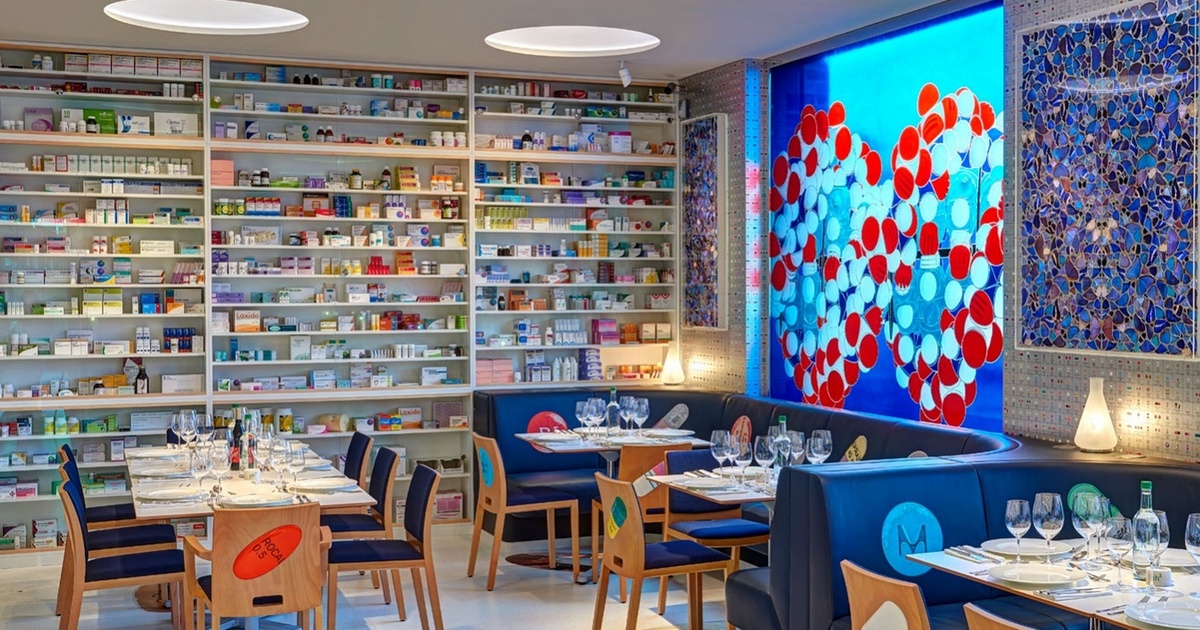 Weaving art into the fabric of a restaurant or cafe produces a profound collaboration between the artists represented and the establishment's brand. It's these deeper partnerships between the hospitality industry and particularly emerging artists, that resonate amongst clientele because it demonstrates fresh and outward thinking.
A cafe or restaurant that has established a relationship with the artworld immediately becomes an innovative environment, which in turn can attract a lot of interest in an imaginative way. The partnership has such profound meaning because not only is the establishment a place to eat or drink, but it additionally becomes an experience for guests.
Artupia offers venues the opportunity to purchase art that perfectly captures the essence of their establishment with ease, by assisting them with not only the selection of the artworks, but consulting them on colours, textures and styles whilst also organising all the logistics of their order. 
It's great for PR and marketing
Art in a restaurant or cafe is not only aesthetically pleasing, but it can transform its image entirely. Supporting art and artists in an establishment lends an air of community and integrity to the brand, giving it a unique sense of authenticity and credibility that is often lost due to the ubiquity of the hospitality sector. Creativity in all forms is inspiring, so associating a restaurant or cafe with art is a hugely effective way of generating traffic to establishments both offline and online.
Working with artists, particularly emerging artists, immediately widens the reach of the establishment's brand, attracting not only hungry clients but also art and interior design aficionados. Online presence dominates our lives, and by enlarging the theme of a brand to include art will increase chances of being featured in like minded blog articles and podcasts, which in turn drives up SEO!
It boosts presence on social media
Photographing a meal and posting a photo of it online is a rite of passage in the digital age, but having an inspiring backdrop for a selfie or to add to your curated Instagram aesthetic has never been more important. Restaurant and cafe goers want establishments to be visually-engaging, because the world is viewed through smartphones, so currency is ocular. Given the popularity of snapping aliments on Instagram, adding to its aesthetic with an artistic interior only increases its chances of trending on social media. 
The Gallery at Sketch in London is a Millennial pink-hued, pastel paradise, where the walls are lined with 91 satirical doodles by David Shrigley.
The restaurant not only boasts fine-dining, but it is itself an experience, largely thanks to its large following online (335,000 followers on Instagram to be exact), making it an exclusive and must-see establishment.